What is your recommended UCAN fuelling strategy for a race day?
For longer races, over 25km and up to 42.2, I will have a protein enriched powder mixed with chia seeds about 2 hours before start time. about 15-30 minutes before, I will have half a generation ucan snack bar (chocolate peanut butter mmmmmm). I will have the electrolyte powder all ready to go in my drink bottle and every 10km, it's a half snack bar to keep me in for the long haul. This allows my body to continue without ever hitting a wall and the 10km mark is a great spot to be proactive with my nutrition.
What's your favourite UCAN product?
My absolute favorite product is the chocolate peanut butter snack bars. They're an incredible race day fuel and an awesome snak in general. Sometimes, when I'm feeling frisky, I'll freeze them, then crumble them up and add to an ice cream like halo top for an amaaaaaaaazing and healthier option for a cheat meal.
What sports do you train for?
I train for 5k all the way up to a marathon distance (with a possible ultra next year). I also train hard for Spartan races, a great combination of physical and mental strength and endurance.
How does UCAN help your training?
UCAN helps me during my long training runs to make sure i always have the energy to perform optimally. It also gives me the protein I need to recover from extremely tough workouts like Spartan training or weight training.
Would you recommend UCAN for beginners?
I absolutely would. If you are beginning training, you need something that will help your muscles recover. It's even more crucial at that beginning stage to make sure you have something, high quality in both nutrition and taste, to help your body. In terms of fuelling strategy for longer runs, you will soon find that gels and high sugar stuff will make your stomach churn and it might turn you off to the idea of long distance because the simple thought of that is hard. If you can break that barrier with something like UCAN right away, you're already ahead of the game.
Does UCAN improve your endurance?
Oh, Absolutely! I have never hit a wall while training or racing with Generation UCAN. So what does that mean? Well… If you are hitting a wall at 10-12km consistently, you will never be able to bust through the limits of your endurance. With UCAN, I stopped hitting that wall pretty quickly. So is it a magic pill for endurance? No. But is it something that is a BIG part of how you will increase your endurance capacity? HELL TO THE YES. I credit UCAN with my ability to run up to 25km on an empty stomach with no issues at all.
What's your favourite UCAN flavour?
Chocolate Peanut butter for the snack bars, vanilla for the protein enriched powder, orange for the electrolyte powder, and mixed berry for the mini sachet.
Do you use UCAN on non-training days?
Absolutely. I use UCAN as a healthy snack. As an athlete, I eat healthy a majority of the time. I am a keto athlete and fat adapted. Generation UCAN works with that quite well. Now, I do get cravings from time to time and having UCAN absolutely crushes those cravings while still allowing me to treat my body well.
Andrew favorite UCAN Sport nutrition products
In stock

In stock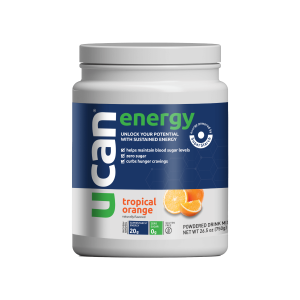 Out of stock