What is energy in sport?
The word 'energy' can be ambiguous in the context of exercise. Is it a heart that races? A tingling of intense readiness, jitters as well? Is it stamina-related, an enhanced capacity in the most demanding part of a workout to press harder? Do people undergo various types of energy exercise, and if so, do they prefer different kinds of energy?
It's hard to determine what food, drink, or product will better help it without a working concept of "energy" as it relates to exercise.
Energy is described, among others, by Merriam-Webster as "dynamic quality," "vigorous exertion of power," and "usable power (such as heat or electricity)."
"Usable power" is certainly something for workouts that we need. The two primary energy sources oxidized (or burned) during exercise are fats and carbohydrates. Fats and carbohydrates are two of the three food macronutrients (the other being protein), and the body breaks them down into units of cell energy called ATP (adenosine triphosphate) that powers your efforts.
The number of carbohydrates and fats that your body uses can depend on different variables, but the major one is the strength of exercise. The more intense your exercise, the more carbohydrates your body relies on; the less intense the activity (or "submaximal"), the more it relies on fats.
So, your body primarily uses fats and carbohydrates for energy or' functional strength' throughout the exercise.
SUPERSTARCH® : Long lasting energy for your workout
As a long-lasting, low-glycemic complex carbohydrate that provides reliable, consistent, workout energy, SuperStarch stands uniquely on its own. It is a food product that serves as the center or source of nutrients for your workout and provides a slow release of carbohydrates to keep your blood sugar stable, keep you fueled, and feeling nice.
SuperStarch emerged to meet the unique needs of a child with life-threatening hypoglycemia, but its ability to provide a smart, steady source of exercise energy has made it a favored fuel source in the endurance and fitness worlds for athletes and workout enthusiasts of all ages.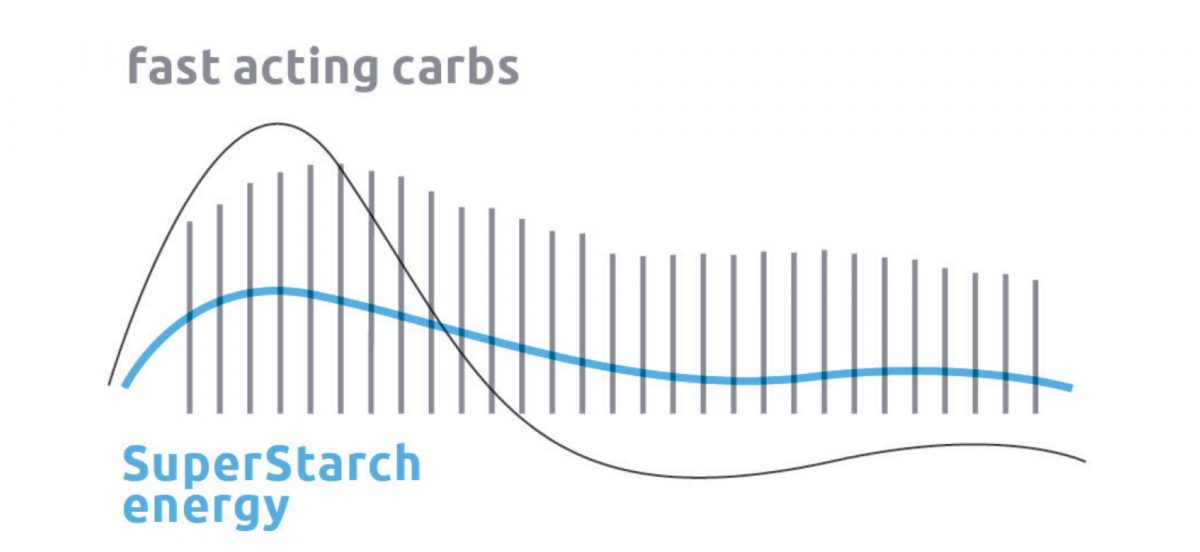 OTHER TYPES OF ENERGY in SPORT SUPPLEMENT
Of course, some other advantages and strategies may additionally support the feelings of energy and/or output during exercise.
The brain may be excited by caffeine, which increases feelings of being alert. Creatine supplementation may assist the energy system of Creatine-Phosphate (CP) to provide ATP maximally during the very short window that it contributes to energy exercise. Branched-chain amino acids help to facilitate the production and recovery of muscle protein; protein powders are formulated to support the daily requirements of dietary protein, which can differ greatly depending on the person. By increasing muscle buffering ability, supplementation of beta-alanine can improve efficiency, as it acts as a rate-limit for carnosine.
Any of the above-mentioned supplements and compounds can assist in overall workout energy and/or recovery through the pathways they are intended to help, depending on an individual's needs and objectives, but they do not provide the kind of energy or "usable strength" that SuperStarch does.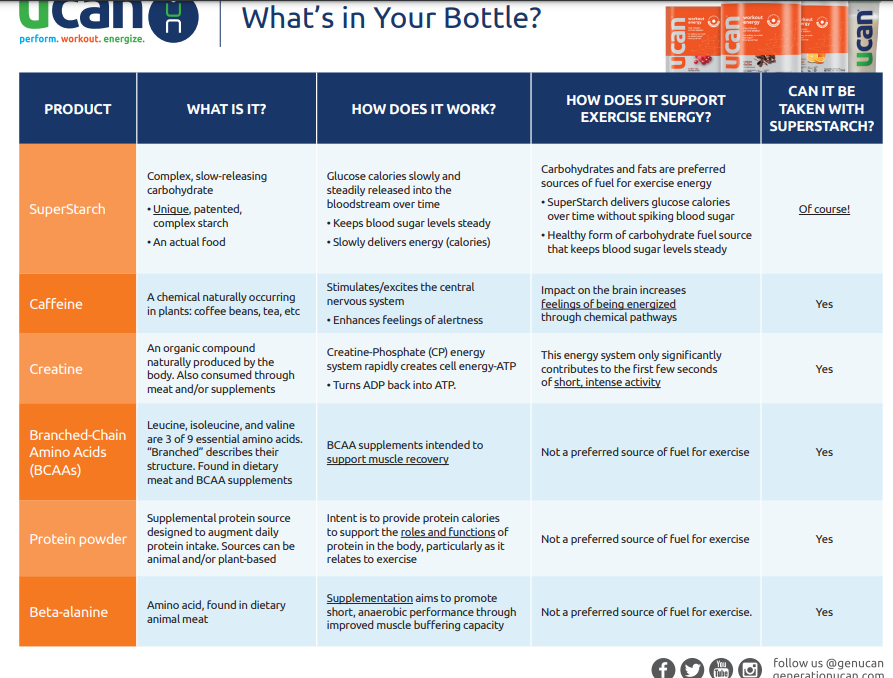 The only SuperStarch powered nutrition items are UCAN Energy Powders and Energy Bars. For your protein drink, do you want to mix it in? Have it on! Working out at 5 am and enjoying your pre-workout powder dependent on stimulants? For a boost, try mixing it with SuperStarch for sustained energy!
Like all by itself? So do we!